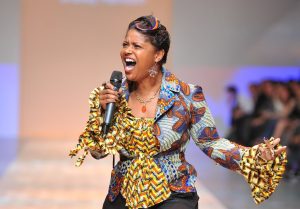 Shelley Hamilton is an award-winning, critically-acclaimed singer/actor/host/writer and is a multi-talented artist in the entertainment industry. A regular performer in Toronto, she has also performed sung in Dubai, Japan, Germany, Holland the the Caribbean, as well as across Canada and the U.S. Shelley was a founding member of the African Canadian a cappella trio "The Delightful Divas" and currently sings with EVAlution. Her magnificent vocals, which have been described as "nouveau soul", have been heard at The Toronto Jazz Festival and in several "Classic Albums Live" concerts. Shelley is the featured vocalist on the 2003 Juno Award-winning album "Allegro" by Robert Michaels. She wrote and toured a one woman play "A New Hope" about the first Black communities in Canada, and is a winner of the African Nova Scotian Music Association's "Artist of the Year" award for her writing and her CD "Connected".
Her first album, "Feeling Good", was released in 2004 at The Glenn Gould studio. She wrote a one-woman show of the same name that debuted to rave reviews at the Atlantic Fringe Festival, the Hamilton Fringe Festival, and in Yorkville, Toronto. Her music video "Cali Alone" was filmed in Costa Rica. Television credits include various singing, voice work and acting credits over the years in television and film, including CBC, CBC Radio, Treehouse TV, CTV and The Comedy Network. Shelley's voice was featured on the album "One World" by Jamie Bonk which won Album of the Year and Best Instrumental Album – Acoustic at the NAR Lifestyle Music Awards. She was honoured by a repeat invitation from the Canadian High Commission to return to the Caribbean for a jazz tour of the islands in 2006, including the Ocho Rios Jazz Festival in Jamaica, the Sugar Hill Resort in Barbados, and jazz concerts and workshops in Trinidad (2006 and 2007).
During the summer, Shelley is the featured host for international talent at Harbourfront's Westjet Stage in Toronto, but is always thrilled to be "down home" to work, most recently performances in the Africville Suite concert with Joe Sealy at Neptune Theatre, the 25th Anniversary of the Black Cultural Centre, the 2013 for the play "Refuge" with Stage East Theatre Company, and to sing for the opening of the Black Loyalist Heritage Centre opening (June, 2015) in Birchtown, NS.
Her future projects include telling the stories of more Canadians through her work, especially her home… Nova Scotia! #scotiantothecore